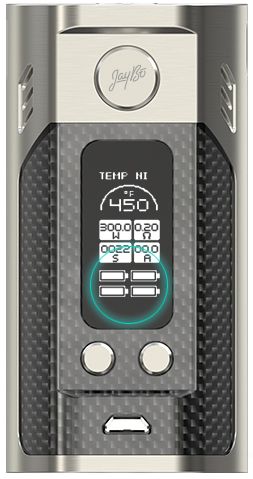 Wismec: RX300
The Wismec Reuleaux RX300 TC Box Mod represents Wismec's dedication towards advanced technological upgrades and design elements, featuring a staggering 300W of maximum output powered by four 18650 batteries alongside a comprehensive temperature control suite and a dedicated OLED display. The Wismec RX300 is the modular evolution of the RX200 and RX200S, increasing in size while maintaining hints of the futuristic design language from the original. The striking visual aesthetic implements a natural soft contour all-around the device, contributing durability and solid weight to the device while also having the form factor to comfortably hold in-hand for a quad 18650 platform. A magnitized battery cover similar to the original chassis is present, featuring carbon fiber inlays or faux leather. The Wismec RX300 Mod allows for an incredible battery capacity of four 18650 high amperage batteries (sold separately) that allow for unprecedented range and effective output. A continuation of Wismec's vaulted and versatile output, it can fire up to a stunning 300W with full temperature control and onboard support for Ni200 Nickel, Titanium, and Stainless Steel heating elements. In temperature control mode, it features an adjustable TCR mode that allows for expanded compatibility and output tuning. The intuitive OLED screen displays a classic and effective organization, with essential information neatly shown along with separate battery bars evaluation. Paying homage to the original Reuleaux apparatus with expansion in technological performance and battery life, the Wismec Reuleaux RX300 TC Box Mod is the perfect statement piece for a flagship device.
For more information about the Wismec Reuleaux RX300 Starter Kit.
Wismec Reuleaux RX300 300W TC Box Mod Features:
Design Collaboration by Wismec and Jay Bo Designs
Quad 18650 Battery Platform - Batteries Not Included
Wattage Output Range: 1-300W
Minimum Atomizer Resistance: 0.05ohm
Temperature Range: 200-600F
Versatile Temperature Control Module
Supports Ni200 Nickel, Titanium, and Stainless Steel Heating Elements
Ultra-Performance Wismec RX300 Chipset
Intuitive Large OLED Display
Superior Aluminum Construction
Soft Poly-Angular Frame
Two Battery Cover Option: Carbon Fiber or Leather
Changeable Stickers
Magnetized Battery Cover
Onboard Reverse Polarity Protection
Upgradeable Software
MicroUSB Port - Firmware Upgrades
Optional RC Adapter - Powerbank Capability
Spring-Loaded Stainless Steel 510 Connection
Available in Silver, Black
Includes:
1 Wismec RX 300
1 MicroUSB Cable
Instructional Manual
In order to use temperature control feature, it requires use of nickel, titanium, or stainless steel coils and must be built with non-resistant wire.

This product is for advanced user only! Please have a great understanding and technical knowledge on how to use this product in order to properly use it. Use it at your own risk!
Note: There is always an inherent risk when using any rechargeable batteries at anytime and under any circumstances. CIGARNBEYOND.com and any of CIGARNBEYOND.com's parent and subsidiary companies are not held responsible for any damage for any modification of the batteries, chargers, devices and other products that we carry in any form or shape, this is including pack making.

CIGARNBEYOND.com and any of CIGARNBEYOND.com's parent and subsidiary companies will not be held responsible or liable for any injury, damage, or defect, permanent or temporary that may be caused by the improper use of a Li-ion (Lithium-ion), LiPo (Lithium-ion Polymer) and any rechargeable battery/batteries as well as chargers. Please have a greater understanding of the batteries/chargers you are using and how to care for them properly.

When working with Li-ion (Lithium-ion), LiPo (Lithium-ion Polymer) and any rechargeable cells, please be cautious and carefully use as they are very sensitive to charging characteristics and may explode or burn if mishandled. Please make sure that you have great knowledge on all rechargeable batteries before you use them. Always charge batteries at the clean and fire-proof surface. Never leave charging batteries unattended. If you see that there are visible damages on the batteries, please do not use. Always keep, store and transport the rechargeable cells in a safe, non-conductive container in controlled environment

Do not use any rechargeable battery as well as any battery charger if any visible damage is present, as well as if the cell or charger has been stressed through mishandling, accidental or otherwise, even if damage may not be visible. Always store and transport rechargeable cells in a safe, non-conductive container in a controlled environment. Please dispose battery cells, chargers or any other electronic devices in accordance of local laws and mandates.