Vaporesso: Tarot Nano Kit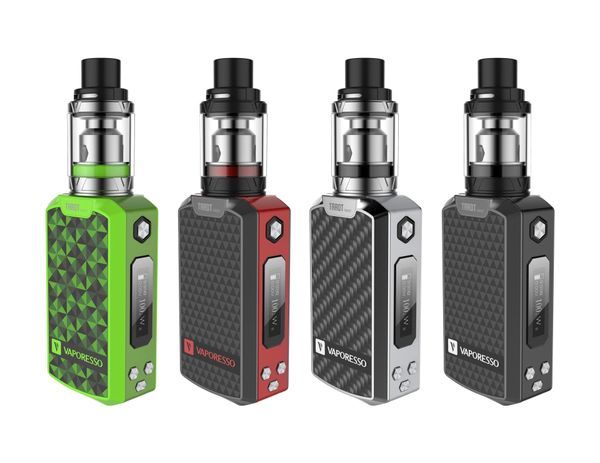 Vaporesso: Tarot Nano Kit
The Vaporesso Tarot Nano 80W TC is one of the smallest platforms to fully integrate the critically acclaimed OMNI board, featuring a versatile output range capable of outputting 5 to 80W, and is coupled with the EUC based Veco Sub-Ohm Tank. The Tarot Nano integrates a built in 2500 mah rechargeable battery that powers the OMNI board, which is Vaporesso's premiere output system, and features six output modes with the new Customized Curve of Wattage (CCW) and Customized Curve of Temperature (CCT) modes adding a greater range of versatility and precision. In standard power output, the Tarot Nano is capable of a 5 to 80W range, supporting resistances down to 0.15 ohms. In CCW mode, users are able to customize wattage output second to second and ramp up control every half second, allowing users to experience output dependent on their needs and wants. CCT follows suit, with customizable temperatures during use to allow users greater control. Bypass Mode, Smart Variable Wattage Mode, TCR, and Ni200, Titanium, and SS316 temperature controlled output are also onboard for more traditional methods of output. Paired with the Tarot Nano 80W TC is the 22mm diameter Veco Sub-Ohm Tank, a simple and effective platform that utilizes the affordable and highly efficient Vaporesso EUC coil structure. Airflow of the Veco is positioned in the top of the chassis, featuring full adjustability to throttle the dual 12mm by 1.5mm airslots. Compact, sophisticated, and paired with an efficient and easy to use Sub-Ohm Tank, Vaporesso's Tarot Nano 80W TC Starter Kit firmly asserts itself as one of the most competitive small form factor vape kits available in the market.
Tarot Nano Features:
5 to 80W Output
OMNI Board
Six Total Output Modes
0.15 to 5.0 ohm Atomizer Resistance Range
0 to 8.5V Voltage Range
Smart VW
Automatically Recommend Ideal Output
Can Easily Adjust
Customized Curve of Wattage (CCW)
Customize Wattage Output By Second Increments
Customize Ramp Up by 0.5 Second Increments
Bypass Mode
Firmware Upgradeable
Micro USB Charge Port
Automatic Atomizer Recognition
Temperature Control Suite
Ni200 Nickel Support
Titanium Support
SS316 Support
Customized Curve of Temperature (CCT)
Customize Temperature Output Over Time
TCR Mode
200 to 600 Degrees Fahrenheit
Atomizer Lock
Built-In 2500 mAh Battery
Four Button Control
Enlarged Hexagon Firing Button
Hexagon Adjustment Buttons
Mode Button
Two Line 0.91 OLED Display
Temperature Mode and Output
Output Power
Atomizer Resistance
Battery Life Indicator
Screen Rotation
Zinc and Aluminum Alloy Construction
Carbon Fiber Inlay and Accents
Spring Loaded Gold Plated 510 Connection
Low Voltage/Current/Output Short Circuit/Load/Low Resistance/Overheating/Anti Loaded/Timeout Protection

Veco Sub-Ohm Tank Features:
22mm Diameter
2ml Tank Capacity
Threaded Top Fill
EUC Coil Structure
Eco Universal Coil
Drop In Design
Cost Effective
Cross Platform Compatible with EUC Sleeve
Available in Ceramic and Traditional Cotton Wicking
Organic Cotton Surrounding Ceramic EUC
Provides Auxiliary Wicking
Full Organic Cotton on Traditional EUC
0.5 ohm 316L Ceramic
25 to 35W
0.4 ohm Clapton Traditional
40 to 50W
Dual Adjustable Top AIrflow
12mm by 1.5mm Each Airslot
10mm Bore Delrin Drip Tip
Gold Plated 510 Contact
Product Includes:
One Tarot Nano 80W TC Mod
One Veco EUC Sub-Ohm Tank
0.4 ohm Clapton Traditional EUC Coil
0.5 ohm 316L Ceramic EUC Coil
Spare Glass Tank Section
Spare O-Rings
One Micro USB Cable

User Manuals



In order to use temperature control feature, it requires use of nickel, titanium, or stainless steel coils and must be built with non-resistant wire.

This product is for advanced user only! Please have a great understanding and technical knowledge on how to use this product in order to properly use it. Use it at your own risk!
Note: There is always an inherent risk when using any rechargeable batteries at anytime and under any circumstances. CIGARNBEYOND.com and any of CIGARNBEYOND.com's parent and subsidiary companies are not held responsible for any damage for any modification of the batteries, chargers, devices and other products that we carry in any form or shape, this is including pack making.

CIGARNBEYOND.com and any of CIGARNBEYOND.com's parent and subsidiary companies will not be held responsible or liable for any injury, damage, or defect, permanent or temporary that may be caused by the improper use of a Li-ion (Lithium-ion), LiPo (Lithium-ion Polymer) and any rechargeable battery/batteries as well as chargers. Please have a greater understanding of the batteries/chargers you are using and how to care for them properly.

When working with Li-ion (Lithium-ion), LiPo (Lithium-ion Polymer) and any rechargeable cells, please be cautious and carefully use as they are very sensitive to charging characteristics and may explode or burn if mishandled. Please make sure that you have great knowledge on all rechargeable batteries before you use them. Always charge batteries at the clean and fire-proof surface. Never leave charging batteries unattended. If you see that there are visible damages on the batteries, please do not use. Always keep, store and transport the rechargeable cells in a safe, non-conductive container in controlled environment

Do not use any rechargeable battery as well as any battery charger if any visible damage is present, as well as if the cell or charger has been stressed through mishandling, accidental or otherwise, even if damage may not be visible. Always store and transport rechargeable cells in a safe, non-conductive container in a controlled environment. Please dispose battery cells, chargers or any other electronic devices in accordance of local laws and mandates.