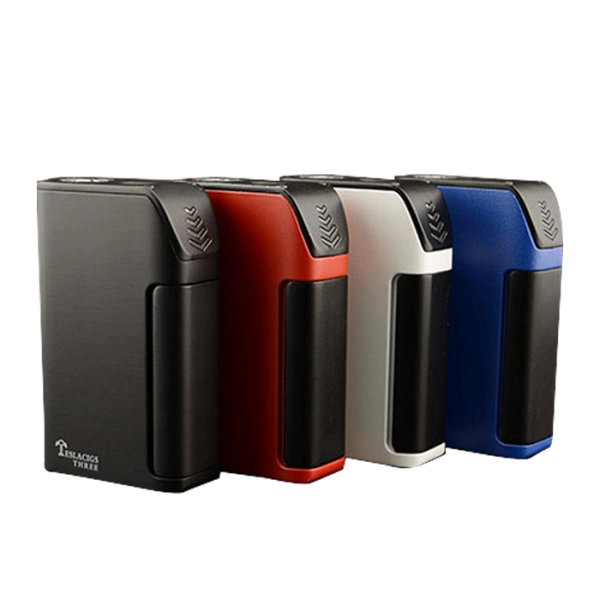 Tesla Cigs: Three
The Tesla Three 150W Box Mod is the modern evolution of Teslacigs' innovative platforms, with a direct voltage output up to 150W, 5000mAh internal LiPo battery, and can be used as a convenient Power Bank. Geared towards providing the best balance between functionality, battery life, and size, the Tesla Three manages to pack a massive 5000mAh Lithium Polymer battery capacity with a plethora of safety suites to provide long-lasting operational usage. New to the device is the capability to be used a powerful Power Bank, with a USB 5V/1A output to charge mobile phones or other digital products for an incredible value-added functionality. Coupled with a maximum output of 150W with a minimum atomizer resistance of 0.1ohm, the Tesla Three 150W packs one of the best size to performance ratios in today's market. The architectural structure features ergonomically soft curves with a stealthy firing mechanism that makes usage and handling easy and comfortable. Manufactured out of premium Zinc Alloy with baked finish to provide strong durability, with innovative LED light to further the user experience of the device. The internal battery bank can be charged through the MicroUSB port at a rate of 2A, providing excelling charging rates and minimize downtime. With an overall system perfectly catered to effective performance along with Power Bank functionality, the Tesla Three 150W Box Mod is a stunning well-rounded output platform.
Teslacigs Three 150W Box Mod Features:

Dimensions: 81mm by 52mm by 25mm
Integrated 5000mAh LiPo Battery
Optional Power Bank Functionality
Maximum Wattage Output: 150W
Maximum Voltage Output: 40A
Min Atomizer Resistance: 0.1
Premium Zinc Alloy Construction
Durable Baked Finish
Innovative LED Light Indicator
Charging Protection
Low Voltage Warning
Short Circuit Protection
10S Over Puffing Protection
MicroUSB Port - 5V/2A Passthrough Capability
USB Port - 5V/1A Output Charging
510 Connection
Includes:

1 Tesla Three 150W Mod
1 MicroUSB Cable
Instruction Manual
In order to use temperature control feature, it requires use of nickel, titanium, or stainless steel coils and must be built with non-resistant wire.

This product is for advanced user only! Please have a great understanding and technical knowledge on how to use this product in order to properly use it. Use it at your own risk!
Note: There is always an inherent risk when using any rechargeable batteries at anytime and under any circumstances. CIGARNBEYOND.com and any of CIGARNBEYOND.com's parent and subsidiary companies are not held responsible for any damage for any modification of the batteries, chargers, devices and other products that we carry in any form or shape, this is including pack making.

CIGARNBEYOND.com and any of CIGARNBEYOND.com's parent and subsidiary companies will not be held responsible or liable for any injury, damage, or defect, permanent or temporary that may be caused by the improper use of a Li-ion (Lithium-ion), LiPo (Lithium-ion Polymer) and any rechargeable battery/batteries as well as chargers. Please have a greater understanding of the batteries/chargers you are using and how to care for them properly.

When working with Li-ion (Lithium-ion), LiPo (Lithium-ion Polymer) and any rechargeable cells, please be cautious and carefully use as they are very sensitive to charging characteristics and may explode or burn if mishandled. Please make sure that you have great knowledge on all rechargeable batteries before you use them. Always charge batteries at the clean and fire-proof surface. Never leave charging batteries unattended. If you see that there are visible damages on the batteries, please do not use. Always keep, store and transport the rechargeable cells in a safe, non-conductive container in controlled environment

Do not use any rechargeable battery as well as any battery charger if any visible damage is present, as well as if the cell or charger has been stressed through mishandling, accidental or otherwise, even if damage may not be visible. Always store and transport rechargeable cells in a safe, non-conductive container in a controlled environment. Please dispose battery cells, chargers or any other electronic devices in accordance of local laws and mandates