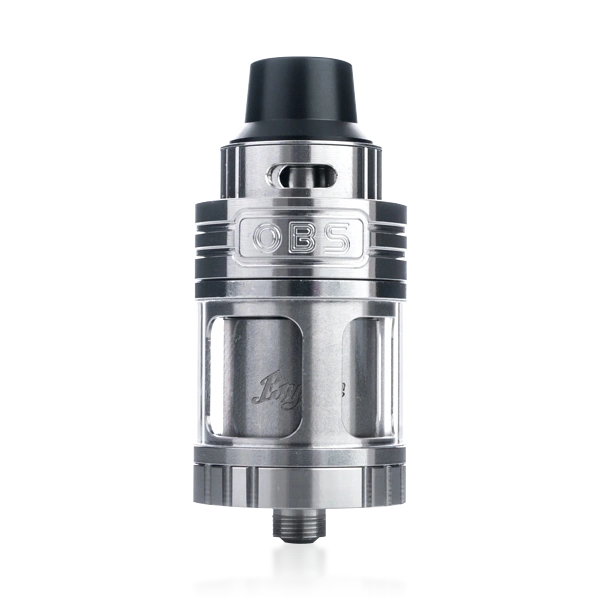 OBS: Engine
Quality RTAs are capable of providing unique and flavorful draws that cannot be achieved with an RDA or sub-tank. OBS brings the vaping community a truly diverse RTA in the Engine RTA. Containing a versatile two post build deck, the Engine fires a variety of coil types with great accuracy and strength. The OBS introduces monstrous 25mm size with four 4mm post holes and 2mm posts for streamlined coil building. 5.2ML vape juice capacity provides the user with plenty of juice for extended vaping sessions along with expert delivery of flavor to the coil. This expertly designed RTA was crafted to reduce temperature due to its meticulous construction. A large airflow hole is cut to perfection, providing excellent flavor and preventing vape juice from flooding excessively. The Engine RTA contains 4mm wicking channels for lightning fast wicking. This side-fill RTA allows the vaper to fill their juice in a quick and unique way. If flavor, vapor production and ease of use are what you're looking for; buy the OBS Engine RTA Rebuildable Tank Atomizer 5.ML today!

What's Included:
1 x OBS Engine RTA
2 x Clapton Wires
1 x Japanese Organic Cotton DIY Kit
1 x Additional Glass Tank Section
Specs & Features
25mm Diameter
Side and Top Fill Tank
11x5mm
5.2ml Tank Capacity
Color: Stainless Steel
Isolated Build Deck and Tank Assembly
Lock Design
30% Temperature Reduction by Design
Two Post Build Deck
Two Post Dual Terminal
Side Mounted Hex Screws
Four Subdeck Wicking Channels
Rapid Wicking
Adjustable Top Airflow
8mm by 3mm Quad Airflow
304 Stainless Steel Construction
Quartz Glass Tank Section
WARNING: This is an advanced Item. Please use at your own risk and always use proper precautions and handling. Rebuildable atomizers are for the experienced users with access to multimeters, working knowledge of ohms law and overall knowledge of electronic devices.