IJOY DIAMOND PD270 234W STARTER KIT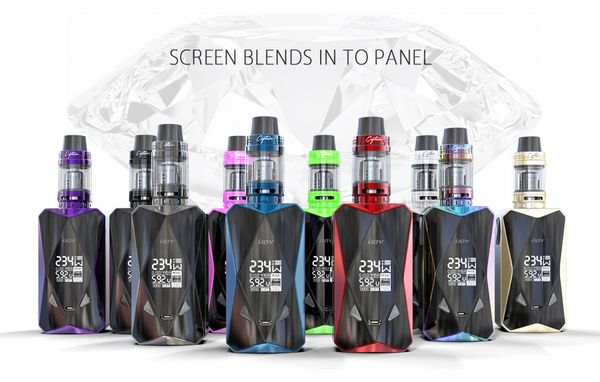 IJOY DIAMOND PD270 234W STARTER KIT
iJoy Diamond PD270 234W Starter Kit

iJoy introduces their Diamond PD270 234W Starter Kit, a dual 20700 battery (sold separately) platform device whose beautiful chassis was inspired by the multi-faceted diamond cutting technology, and is paired with the Captain X3S Sub-Ohm Tank. The Diamond PD270 Box Mod's chipset is designed by IWEPAL, has a maximum output of 234W, and features a large OLED screen in which the screen blends into the panel, giving the device a unique and classy look. The Diamond PD270 also features a full temperature control suite and USB charging. Included with the iJoy Diamond PD270 234W Starter Kit is the Captain X3S Sub-Ohm Tank. This tank is a 25mm diameter tank with slide-to-fill top fill capability and a 4.2ml E-Juice capacity. The iJoy Captain X3S utilizes the X3 coil family and comes with two different coils: a 0.4 ohm X3-C1 and a 0.3 ohm X3-C2 coil. Airflow enters the Captain X3S Sub-Ohm Tank via dual adjustable bottom airflow and a wide bore 810 delrin drip tip allows the user ample vapor and flavor. The iJoy Diamond PD270 234W Starter Kit's multi-faceted diamond cutting appearance, alongside a dual 20700 battery platform makes this device a beautiful and high-performing device!

Please Note: Batteries must be matched in brand, model and battery state at all times. Discharge and recharge batteries within the same grouping of three. Failure to do so may result in injury. Never use damaged or improperly wrapped batteries with this device.

Quick Links:
Shop All Batteries
Monthly Featured E-Liquids

iJoy Diamond PD270 234W Box Mod:

Dual 20700 Battery Platform

New 234W Chip Set
5 to 234W Output
Reverse Polarity Protection
18650 Battery Adapter Included

Batteries Sold Separately

Firmware Upgradable

Full Temperature Control

Titanium Support
Ni200 Nickel Support
Stainless Steel 316 Support
TCR Mode
Atomizer Resistance Lock
200 to 600 Degrees Fahrenheit
0.05 ohm Minimum Atomizer Resistance

Large OLED Display Screen

Vertical Stack
Output Mode
Output Temperature
Output Power
Output Voltage
Output Current
Atomizer Resistance
Stealth Mode
Puff Counter
Individual Battery Life Indicators

Three Button Control Face
Chassis Inspired by Multi-Faceted Diamond Cutting Technology
Magnetized Battery Access Door

Accepts Two High Amperage 18650 or 20700 Batteries (sold separately)

2A Maximum Charging

Micro USB Update and Charging Port

Spring Loaded Stainless Steel 510 Connection
PCB Temperature Overheat/Low Power/PCB Atomizer Short/ No Atomizer/Low Resistance/Ohms Too High Protection

Product Dimensions:


iJoy Captain X3S Sub-Ohm Tank Features:

25mm Diameter
Sliding Top Fill System

Pour to Fill
4.2ml Maximum Capacity

X3 Coil Family

X3-C1

0.4 ohm
Dual Coil
60 to 90W

X3-C2

Dual Adjustable Bottom Airflow

14mm by 3mm Each Airslot
Fully Closeable

Wide Bore Delrin 810 Drip Tip
510 Drip Tip Adapter

Product Includes:

One iJoy Diamond PD270 234W Box Mod
One iJoy Captain X3S Sub-Ohm Tank

810 Delrin Drip Tip
510 Drip Tip Adapter

One X3-C1 0.4 ohm Coil Head
One X3-C2 0.3 ohm Coil Head
Spare Glass Tank Section
Spare Parts Pack
18650 Battery Inserts
One QC Micro USB Cable
User Manual
Warning Card

Product Recommendations:

In order to use temperature control output, coils must be built using non-resistant wire.


Advanced User Item. Use at Your Own Risk!

NOTE: Subsidiary companies are not responsible for any damage caused by the misuse and/or mishandling of Li-ion (Lithium-ion), LiPo (Lithium-ion Polymer) and any rechargeable batteries and chargers.

Use special caution when working with Li-ion (Lithium-ion), LiPo (Lithium-ion Polymer) and any rechargeable cells, as they are very sensitive to charging characteristics and may explode or burn if mishandled. Make sure the user has enough knowledge of Li-Ion (Lithium-ion), LiPo (Lithium-ion Polymer) and any rechargeable cells in charging, discharging, assembly and storage before use. Always charge in/on a fire-proof surface. Never leave charging batteries unattended. Do not use any rechargeable battery as well as any battery charger if any visible damage is present, as well as if the cell or charger has been stressed through mishandling, accidental or otherwise, even if damage may not be visible. Always store and transport rechargeable cells in a safe, non-conductive container in a controlled environment. Dispose of all battery cells and chargers in accordance to local laws and mandates.