G-PRIV 2 Kit Luxe Edition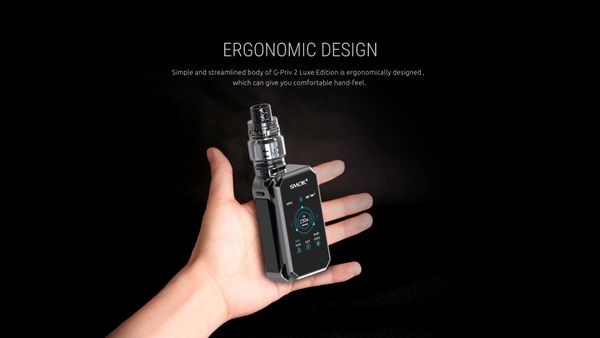 G-PRIV 2 Kit Luxe Edition
SMOK G (PRIV 2) 230W Luxe Edition and TFV12 Prince Full Kit... Spectacular !!!!!

The SMOK G 2 PRIV 230W Luxe Edition and TFV12 Prince Full Kit is the upgrade of the new small and compact flagship device that follows up the hottest set of the year in the SMOK G PRIV family, packing in a beautiful 2 inch touch screen, an elegant prismatic appearance along with the featured TFV12 Prince Sub-Ohm Tank. The G PRIV 2 Luxe Edition has been designed to integrate all of SMOK's newest and most cutting edge features, design, and output technology into a compact and visually striking chassis. The chassis features sharp angular faces alongside the new prismatic finishes alongside the new cobra battery door to create one of the most recognizable aesthetics today. Powered by SMOK's newest chipset, the G PRIV 2 Luxe Edition is capable of 1 to 230W of output, a trio of output setting adjustments, and comprehensive temperature control suite that packs in adjustable TCR as well as Preheat capability. This suite of features makes the G PRIV 2 Luxe Edition the most capable and versatile platform in the touch screen class. User control for adjustment is implemented through a touch screen interface, covered with high strength toughened glass that is both shatter and shock resistant. The updated IPS 200PPI makes the base display and menu 20% sharper than the regular G PRIV, alongside the sharper menu, a richer and more intuitive menu design is implemented for a more efficient use and easier adjustment control with a full array of essential data. Additionally, the G PRIV 2 Luxe Edition integrates an incredibly useful dedicated screen switch located above the firing bar which allows users to toggle or lock the display to maximize battery life during use.Included with each kit is the new SMOK TFV12 Prince Sub-Ohm Tank which combines the best elements of two of the most popular and critically acclaimed tanks today, packing in the manageable size and affordable performance coil family with the capacity and range of the full sized TFV12. The flagship device of SMOK's incredible line-up, the G PRIV 2 230W Luxe Edition and TFV12 Prince combine to create the showcase set-up of the year.

Quick Links:
Shop All Batteries
Monthly Featured E-Liquids

Please Note: Batteries must be matched in brand, model and battery state at all times. Discharge and recharge batteries within the same grouping of two. Failure to do so may result in injury. Never use damaged or improperly wrapped batteries with this device.

Purchase TFV12 Prince Replacement Coils Here!

G PRIV 2 230W TC Luxe Edition Features:

1 to 230W Power Output

0.5V to 9V
0.1 to 2.5 ohm Atomizer Resistance Range
Three Setting Output Mode
Firmware Upgradeable

Temperature Control Output

Ni200 Nickel Support
Titanium Support
Stainless Steel Support
Adjustable Initial Resistance
Adjustable TCR
Preheat Capability
200 to 600 degree Fahrenheit Output Range
0.05 to 2.0 ohm Atomizer Resistance Range

Shatter Resistant 2" Touch Screen

High Strength Toughened Glass

Tested 10000 Times for Impact
Shatter Resistant
Shock Resistant

Touch Screen Control
Vibrant Display Resolution
Icon Based Display Matrix

Highly Visible
Comprehensive Menu Settings and Adjustment
Full Display
Dual Battery Life Indicator

Dedicated Screen Button

Turn Off/On Screen

Saves Battery During Extended Use

Screen Lock Capability

Safely Store and Transport Device

Innovative and Ergonomic Firing Mechanism

Comfortable and Easy to Use
Squeeze to Fire Operation

Dual Magnetized Battery Bay Door

High Amperage 18650 Battery Powered
Zinc Alloy and Carbon Fiber Paneling
Spring Loaded Internal Contacts
Battery Ejection Ribbon

Zinc Alloy Chassis
Stainless Steel 510 Threading

G PRIV 2 Luxe Edition Dimensions:


TFV12 Prince Product Features:

25mm Diameter Base
Hinge and Lock Top Fill System
5ml Max Standard Capacity
8ml Max Convex Glass Extension Capacity
SMOK V12 Prince Coil Family

V12 Prince-T10 Decuple Coil Head

0.12 ohm
Patented Decuple Coil
60 to 120W Range
80 to 110W Recommended Range

V12 Prince-X6 Sextuple Coil Head

0.15 ohm
Patented Quadruple Coil
50 to 120W
80 to 100W Recommended Range

V12 Prince-Q4 Quadruple Coil Head

0.4 ohm
Patented Quadruple Coil
40 to 100W
60 to 80W Recommended Range

Compatible with Additional V12 Prince Coils

Dual Adjustable Airslots
Stainless Steel and Glass Construction

TFV12 Prince Product Dimensions:


Product Includes:

One SMOK G PRIV 2 230W Luxe Edition Box Mod
One SMOK TFV12 Prince Sub-Ohm Tank

One V12 Prince Q4 Coil Head
One V12 Prince T10 Coil Head

USB Charging Cable
Replacement Parts and Glass
User Manual

Advanced User Item. Use at Your Own Risk!

NOTE: Descriptions, specifications, and claims are based on manufacturer information. Information listed and provided are to be used at the sole discretion of the consumer and are not representative of analysis, testing, and verification by VaporDNA and any and all of VaporDNA's parent and subsidiary companies. There is an inherent risk with the use of any and all rechargeable batteries in any circumstance. VaporDNA™ and any and all of VaporDNA™'s parent and subsidiary companies are not responsible for damage if there is any modification of the batteries/chargers in any form or shape (including pack making). VaporDNA™ and any and all of VaporDNA™'s parent and subsidiary companies are not responsible for any damage caused by the misuse and/or mishandling of Li-ion (Lithium-ion), LiPo (Lithium-ion Polymer) and any rechargeable batteries and chargers.

Use special caution when working with Li-ion (Lithium-ion), LiPo (Lithium-ion Polymer) and any rechargeable cells, as they are very sensitive to charging characteristics and may explode or burn if mishandled. Make sure the user has enough knowledge of Li-Ion (Lithium-ion), LiPo (Lithium-ion Polymer) and any rechargeable cells in charging, discharging, assembly and storage before use. Always charge in/on a fire-proof surface. Never leave charging batteries unattended. Do not use any rechargeable battery as well as any battery charger if any visible damage is present, as well as if the cell or charger has been stressed through mishandling, accidental or otherwise, even if damage may not be visible. Always store and transport rechargeable cells in a safe, non-conductive container in a controlled environment. Dispose of all battery cells and chargers in accordance to local laws and mandates.

CigarNBeyond will not be held responsible or liable for any injury, damage, or defect, permanent or temporary that may be caused by the improper use of a Li-ion (Lithium-ion), LiPo (Lithium-ion Polymer) and any rechargeable battery/batteries. Please have a basic understanding of the batteries you are using and how to care for them properly.