Asomodus: Minikin V2 Touch Screen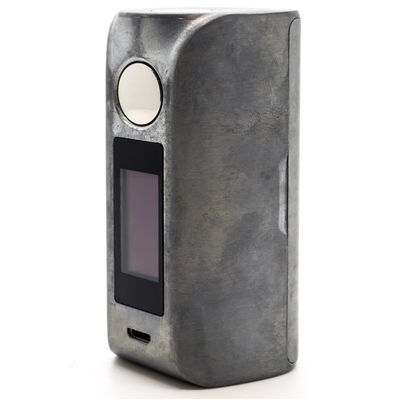 Asomodus: Minikin V2 Touch Screen
The Minikin is back and better than ever! The Minikin 2 features a boosted maximum power output of 180 watts and now features a newly designed touch screen by utilizing the all new GX-180-HT chip.
The Minikin II features newly updated firmware which displays all pertinent vaping data on a single, easy to read screen. The following information is found on the OLED display: Individual charge of each battery inside the mod, the resistance of any atomizer used on the device, the volts being drawn from your batteries to achieve your desired wattage, a puff counter to monitor usage, the duration of each fire, and which firing mode you are currently in.
The Minikin II features a redesigned body that was crafted specifically to be comfortable to hold in your hands. A freshly designed magnetic closure door has been added for a mode secure seal and the USB port has been moved to the front of the device. 15 ventilation holes have been incorporated to the base of the device to allow for maximized heat dissipation.
asMODus Minikin 2 TC Touch Screen Box Mod Features:

Dual 18650 High-Drain Battery - Not Included

asMODus GX-180-HT Chipset

Wattage Output Range: 5-180W

Max Voltage Output: 7.5V

Work Efficiency: 95%

Min Atomizer Resistance: 0.1ohm

Temperature Control Range: 212-572F

Ni200 Nickel, Titanium, and Stainless Steel Support

Technology Similar To Temperature Coefficient of Resistance (TCR)

Temperature Factor of Resistivity (TFR) Functionality

Natural Rounded Contour - Ergonomically Driven

Durable Soft Paint Finish

Intuitive Touch Screen - 1 Inch Display

Rapid Response Control

Intelligent Gesture and Visual Interface

Simple Navigation Menu

One-Button Firing Mechanism

Magnetized Battery Cover

Reverse Polarity Protection

High Voltage Warning

Low Voltage Warning

Low Resistance Protection

High Resistance Protection

Chip Temp Protection

MicroUSB Port - Firmware Upgrades

510 Connection
Includes:

1 Minikin 2 180W Mod

1 MicroUSB Cable

Instructional Manual
In order to use temperature control feature, it requires use of nickel, titanium, or stainless steel coils and must be built with non-resistant wire.

This product is for advanced user only! Please have a great understanding and technical knowledge on how to use this product in order to properly use it. Use it at your own risk!
Note: There is always an inherent risk when using any rechargeable batteries at anytime and under any circumstances. CIGARNBEYOND.com and any of CIGARNBEYOND.com's parent and subsidiary companies are not held responsible for any damage for any modification of the batteries, chargers, devices and other products that we carry in any form or shape, this is including pack making.

CIGARNBEYOND.com and any of CIGARNBEYOND.com's parent and subsidiary companies will not be held responsible or liable for any injury, damage, or defect, permanent or temporary that may be caused by the improper use of a Li-ion (Lithium-ion), LiPo (Lithium-ion Polymer) and any rechargeable battery/batteries as well as chargers. Please have a greater understanding of the batteries/chargers you are using and how to care for them properly.

When working with Li-ion (Lithium-ion), LiPo (Lithium-ion Polymer) and any rechargeable cells, please be cautious and carefully use as they are very sensitive to charging characteristics and may explode or burn if mishandled. Please make sure that you have great knowledge on all rechargeable batteries before you use them. Always charge batteries at the clean and fire-proof surface. Never leave charging batteries unattended. If you see that there are visible damages on the batteries, please do not use. Always keep, store and transport the rechargeable cells in a safe, non-conductive container in controlled environment

Do not use any rechargeable battery as well as any battery charger if any visible damage is present, as well as if the cell or charger has been stressed through mishandling, accidental or otherwise, even if damage may not be visible. Always store and transport rechargeable cells in a safe, non-conductive container in a controlled environment. Please dispose battery cells, chargers or any other electronic devices in accordance of local laws and mandates.