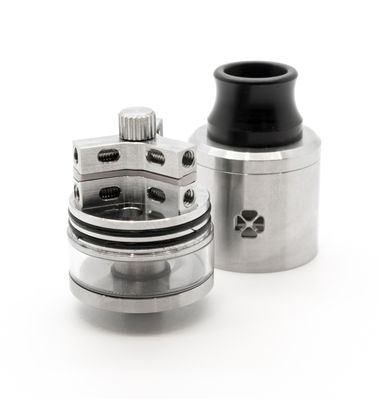 Asmodus: Triad Genesis
The asMODus Triad Genesis RDTA is asMODus's first Genesis-style atomizer, purposefully built for performance with a unique triple-post, dual terminal per post design alongside adjustable direct-to-coil airflow within a beautiful chassis. The Triad Genesis RDTA measures 24mm in diameter with a 2.5mL tank reservoir, filled via innovative juice port located inside the chamber that is can be exposed by a hand-turned screw. The crowning achievement lies within the build deck first introduced with the Triad RDA, featuring a unique 3-point triple-post build deck, with dual terminals on each post measuring 3mm by 2mm each to accommodate a wide array of coil structures and complex build configurations. It can support single, dual, or triple coil configurations, providing ample performance capability. The wicking system is integrated into the deck, with three 3mm diameter holes positioned in front of each post for convenient and natural wicking. Combined with the design of the chassis, the triple side-airflow creates excellent total airflow throughout the structure. The Triad Genesis continues asMODus's dedication to precision machining, constructed out of 304 Stainless Steel and Pyrex glass reinforcing the reservoir. Establishing itself as one of the most unique RDTA platform with the integration of triple-post design, the Triad Genesis RDTA by asMODus is a sensational flagship system.
asMODus Triad Genesis RDTA Features:

24mm Diameter
2.5mL Max Juice Capacity
Superior 304 Stainless Steel Construction
Pyrex Glass Reinforcement
Unique 3-Point Triple-Post Design
Dual Stack Terminals Per Post - 3mm by 2mm
Single, Dual, or Triple Coil Configurations
PEEK Insulator
Ceramic Blocks
Precision Side Airflow Control
3mm Wicking Ports
Hand-Turned Screws Filling Port - Inside Chamber
Sloped Delrin Widebore Drip Tip
510 Connection
Includes:

1 Triad Genesis RDTA
2 Ceramic Blocks
1 Replacement Glass Tube
Spare Parts and O-Rings
This product is for advanced users only. It consists of risk of damaging your mods, devices, and batteries if it is being used improperly. Please make sure that you have great understanding and have done researches on this product before purchasing.