Asmodus: Plaque/ Triad Genesis Combo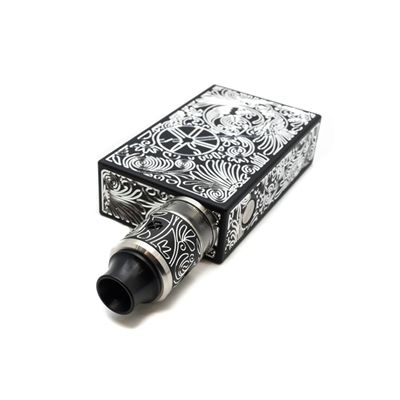 Asmodus: Plaque/ Triad Genesis Combo
For unbeatably stylish and luxurious devices practically dripping with decadence and sophistication, your eyes won't even let you look any further than Asmodus' incredible one-two knockout combo of the Plaque 150W and the updated Triad Genesis RDTA.
The Plaque 150W is instantly recognized as a work of art. Carefully and pristinely endowed with deep and long-lasting engravings that allow the brilliant shine of the polished zinc alloy chassis to shine through from underneath the device's black satin finish. But this mod isn't all looks: powered by one of Asmodus' legendary chipsets sourced fresh off the presses of 2016, the Plaque has a fully capable temperature control module that easily supports popular heating element materials, such as nickel (Ni200), titanium (Ti), and stainless steel (SS), and can adopt custom user-inputted TCR values for even greater versatility—all this on top of the Plaque's impressive 150W ceiling. Both the OLED display and the adjustment buttons are bottom-mounted, giving the device an extremely slick and svelte aesthetic.
The Triad (+2) Genesis is designed to seamlessly match the Plaque: adorned in the same deep sparkling engravings, these two device together are a match made in vaping heaven. The Triad RDTA is very similar to the Triad RDA, in that the build deck is optimized for triple vertical coil configurations for exemplary flavor and satisfying vapor production without the constant risk of spitbacks shadowing your vape experience. The Triad RDTA, however, can hold up to 3.5mL of juice in its Pyrex glass tank—this tank is refilled by removing the hand-turned screw in the center of the build deck to reveal a fill port leading down to your tank. The Triad's triple airflow is more than capable of throttling hot coils, but in case you don't need all three coils, baffle boards designed to redirect precious airflow are included with the Triad RDTA.
By combining the exceptional versatility of the Plaque with the impressive performance of the Triad RDTA, then finishing off the combination by etching ultra-stylish matching engraved finishes, Asmodus has created the "must-have" device for vaping collectors everywhere. With its show-stopping looks, on-the-go–friendly design, and envy-garnering aesthetics, the Plaque 150W alongside the Triad (+2) RDTA is sure to make an impression, no matter whether it's admired by passersby on the street or by house guests from behind a protective glass case.
Plaque 150W Box MOD
Zinc Alloy Construction

Powered by GX-150-HF Chip

Hyper Power Saving Capabilities

"Flavor Taste" Boosting Mode

Accepts Dual 18650 Batteries (NOT INCLUDED)

Magnetic Battery Bay Door

Deep Stylish Engravings

Power Mode:

Wattage Range: 5W - 150W

Voltage Range: ≤7.5V

Temperature Control Mode:

Temperature Range: 212°F - 572°F

Supports:

Nickel (Ni200)

Titanium (Ti)

Stainless Steel (SS)

TCR/TFR

Resistance Range: 0.1 ohm - 2.5 ohm

Bottom-Mounted Display & Adjustment Buttons

Dimensions: 93.5mm x 57mm x 25.5mm

Leather Carry and Display Box
Triad +2 Genesis RDTA
304 Grade Stainless Steel / Pyrex Glass Construction

Deep "Plaque"-Style Engravings

2.5mL Juice Capacity

Three Wicking Ports

Centered Fill Port

Sealed Via Hand-Turned Screw

Three Point Post Design

Six Terminals

Top - Positive

Bottom - Negative

3mm x 2mm Each

Milled Negative Posts

Allen Grub Screws

Fully Adjustable AFC

Triple Coil Inlets

Three Groupings of Four Triangular Slots

Tapered Wide Bore Delrin Drip Tip

Adjustable Positive Pin

Ceramic Baffle Boards

PEEK Insulation

Diameter: 24mm

Beige Carry Pouch
Box Contents
1x Plaque 150W Box MOD by Asmodus

1x Triad +2 Genesis RDTA by asMODus

1x Tapered Wide Bore Drip Tip

1x Spare Pyrex Glass Tank

2x Ceramic Baffle Board

1x Allen Key

1 x Micro-USB Cable

Misc Spare Parts
In order to use temperature control feature, it requires use of nickel, titanium, or stainless steel coils and must be built with non-resistant wire.

This product is for advanced user only! Please have a great understanding and technical knowledge on how to use this product in order to properly use it. Use it at your own risk!
Note: There is always an inherent risk when using any rechargeable batteries at anytime and under any circumstances. CIGARNBEYOND.com and any of CIGARNBEYOND.com's parent and subsidiary companies are not held responsible for any damage for any modification of the batteries, chargers, devices and other products that we carry in any form or shape, this is including pack making.

CIGARNBEYOND.com and any of CIGARNBEYOND.com's parent and subsidiary companies will not be held responsible or liable for any injury, damage, or defect, permanent or temporary that may be caused by the improper use of a Li-ion (Lithium-ion), LiPo (Lithium-ion Polymer) and any rechargeable battery/batteries as well as chargers. Please have a greater understanding of the batteries/chargers you are using and how to care for them properly.

When working with Li-ion (Lithium-ion), LiPo (Lithium-ion Polymer) and any rechargeable cells, please be cautious and carefully use as they are very sensitive to charging characteristics and may explode or burn if mishandled. Please make sure that you have great knowledge on all rechargeable batteries before you use them. Always charge batteries at the clean and fire-proof surface. Never leave charging batteries unattended. If you see that there are visible damages on the batteries, please do not use. Always keep, store and transport the rechargeable cells in a safe, non-conductive container in controlled environment

Do not use any rechargeable battery as well as any battery charger if any visible damage is present, as well as if the cell or charger has been stressed through mishandling, accidental or otherwise, even if damage may not be visible. Always store and transport rechargeable cells in a safe, non-conductive container in a controlled environment. Please dispose battery cells, chargers or any other electronic devices in accordance of local laws and mandates.