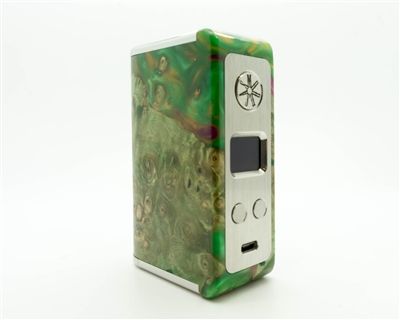 Asmodus: Kodama 150 Watt
asMODus is proud to announce that we are the first company to produce stabilized wood mods which are affordable enough to be purchased at a local shop. This allows the consumer to fully view the items beauty without having to purchase the item.
The Hybrid Stabilized Wood Kodama Edition 150W Minikin's feature the reworked battery door's as well as vibrant coloration due to their "hybrid" style construction. The Hybrid Kodama Minikin has a higher blend of acrylic mixed into the stabilized wood of the mod's body to give them an amazingly unique and vibrant finish. Each Kodama is painstakingly crafted and looks completely different between unit to unit.
The Minikin Kodama Hybrid has structural stabilized wood with added acrylic that creates a firm, high quality body and has a heavy duty feel. This device features the newly implemented pressurized battery door, the very first of its kind in a dual battery stabilized wood mod. A mini USB port has been implemented to grant the capability to charge if preferred by the user.
The Kodama Minikin also features increases in its functionality with its OLED screen displaying the individual charge of each battery that is being used by the mod. This will show the user if a battery is being used more than another. This can happen if batteries have not been married (purchased together and used together solely) but with this new technology, you can quickly remedy the situation. The Kodama also allows the user to manually adjust the resistance that is read from the atomizers with ease. This device features newly implemented TCR and TFR options to further enhance its performance. With TCR (Temperature Coefficient of Resistance) you are able to manually adjust the resistance that is read with your particular coil or build so you will always hit your sweet spot. With TFR (Temperature Factor of Resistivity) mode the Kodama permits the user to use hybrid builds that have a mix of wire types. The Kodama retains hyper power saving capabilities which in turn makes your two battery mod feel as if it contained three batteries. Batteries of at least 30 amps each are required to make these power saving and power boosting functions work at their full potential. This device with its sleek and smooth maple wood design fused with 304 stainless steel will be a great addition to your arsenal! The Kodama will arrive in a Multitude of colors soon to be announced! Pre-order yours today to insure you get this newly innovative device.
Each Kodama includes a high quality, collectible wooden box! The wooden box features our logos and and perfectly accommodates the Kodama for prime protection as well as an exotic look which is sure to turn heads.
The Minikin Kodama will not work with Samsung batteries due to their length.
NOTE: Each stabilized wood mod is made from genuine maple and will contain natural imperfections and graining. Coloration will vary from unit to unit and pictures are depicted for general visualizational purposes. Each unit will vary in style and color from unit to unit.
In order to use temperature control feature, it requires use of nickel, titanium, or stainless steel coils and must be built with non-resistant wire.

This product is for advanced user only! Please have a great understanding and technical knowledge on how to use this product in order to properly use it. Use it at your own risk!
Note: There is always an inherent risk when using any rechargeable batteries at anytime and under any circumstances. CIGARNBEYOND.com and any of CIGARNBEYOND.com's parent and subsidiary companies are not held responsible for any damage for any modification of the batteries, chargers, devices and other products that we carry in any form or shape, this is including pack making.

CIGARNBEYOND.com and any of CIGARNBEYOND.com's parent and subsidiary companies will not be held responsible or liable for any injury, damage, or defect, permanent or temporary that may be caused by the improper use of a Li-ion (Lithium-ion), LiPo (Lithium-ion Polymer) and any rechargeable battery/batteries as well as chargers. Please have a greater understanding of the batteries/chargers you are using and how to care for them properly.

When working with Li-ion (Lithium-ion), LiPo (Lithium-ion Polymer) and any rechargeable cells, please be cautious and carefully use as they are very sensitive to charging characteristics and may explode or burn if mishandled. Please make sure that you have great knowledge on all rechargeable batteries before you use them. Always charge batteries at the clean and fire-proof surface. Never leave charging batteries unattended. If you see that there are visible damages on the batteries, please do not use. Always keep, store and transport the rechargeable cells in a safe, non-conductive container in controlled environment

Do not use any rechargeable battery as well as any battery charger if any visible damage is present, as well as if the cell or charger has been stressed through mishandling, accidental or otherwise, even if damage may not be visible. Always store and transport rechargeable cells in a safe, non-conductive container in a controlled environment. Please dispose battery cells, chargers or any other electronic devices in accordance of local laws and mandates.